With the increasing attention to the occupational health of employees, the high temperature workshop has brought great harm to the health of employees. Therefore, the leaders of enterprises have to grasp the comfortableness of the working environment of the factory. A large number of industrial fans began to emerge on the market, so how to choose a high-power industrial fan?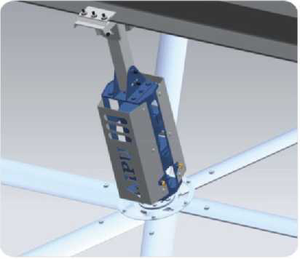 A lot of enterprises use the shop floor industrial fans with insufficient wind power and can not take care of the whole workshop, so the installation of industrial fans is not much effective. The efficiency of the workers is still unmentioning. Instead, they complain every day, so enterprises want to switch to high-power industrial wind fans. Because the market is full of industrial fans, enterprises can not make a quick choice. In fact, the selection of high-power industrial fans from the raw material quality, maximum wind speed and air volume, motor quality of these dimensions can be considered, let's take a look at these dimensions.
Raw material quality
The workshop is a densely populated place, so the primary consideration of choosing industrial fans is safety. The quality of raw materials is the most important factor to consider safety, and is also the premise of efficient work. The core components of the industrial fan in Jiangsu karma workshop are designed by ourselves, and are manufactured by ourselves, which is safer, more reliable and more durable. In addition, the key parts are ensured by the destructive test and the whole machine collision test.
Two. Maximum wind speed and air volume
When choosing high air volume, low speed and super large energy saving fans, the size is very important. The larger the fan size, the more it can push the airflow and bypass the obstacles. Smaller fan sizes are more efficient for specific workspaces or locations with limited installation space. The velocity of the airflow depends on the setting of the diameter and speed of the fan. Jiangsu karma can make customized processing and production according to the specific circumstances of customers, so as to ensure that the factory can achieve maximum utility when applied.
Industrial high power fan
Three. Motor quality
The motor is a very important part. A good motor can make the industrial fan run more efficiently, and it also relates to the service life of the fan. The large industrial fan of Jiangsu karma workshop adopts the German brand Nord motor reducer, the 40mm diameter super large output hollow shaft, the quality is guaranteed, and the efficiency is more secure.
A good high-power industrial fan can solve the high temperature problem of tall buildings, at the same time, it can dredge the airflow in the workshop, provide staff's spirit and work efficiency.