Industrial ceiling fan (also known as the "big industrial fan" in the North) has a maximum diameter of 7.3 meters, covering an area of 1500 square meters and a power of 1.5KW. Natural ventilation and oversize coverage can be a solution to summer cooling and cooling.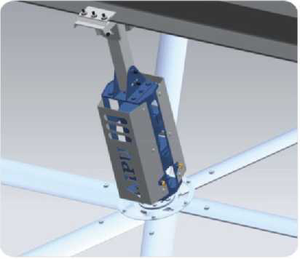 The weather turned hot. Especially in summer, the temperature of the indoor workshops of industrial plants was getting hotter and hotter. The cooling effect of the traditional fans in the 30 degree high temperature days was not so good. How could it be better to use the central air conditioning system?
Industrial ceiling fans will solve these problems for you.
1, energy saving ceiling fan covers a wide area: super large diameter (7.2 meters) and low speed, which promotes air flow in a large area, and the effective coverage of each fan is more than 1450 square meters.
2. Omni-directional and multi angle air circulation. The air flows from top to bottom into a cone, pushing toward the ground, flowing to the ground along the horizontal direction, and pushing upward to the roof when facing horizontal obstructing or horizontal air flow near the fan, thus enhancing the circulation of air in all directions and angles.
3. Outdoor air exchange: the moving air can be exchanged quickly through doors and windows or roof fans and outdoor fresh air to reduce the stagnation of indoor turbid gas.
4, body comfort and cooling: continuous gentle breeze can accelerate the evaporation rate of sweat on the surface of human body, resulting in a cool cooling effect, so that the body can feel the temperature difference of 4-6 degrees.
Industrial ceiling fans are widely used in industrial plants, logistics warehouses, waiting rooms, exhibition galleries, gymnasiums, Shang Chao and other large spaces, as a common industrial machine for space ventilation and personnel cooling. It can push a large amount of air to the ground, and form a certain height of the airflow layer on the ground, thus contributing to the overall air circulation. This advantage lies in the omni-directional ground cover and the three-dimensional circulation of air.