The industrial fan can drive a large number of air movements with the most efficiency, generate super large air volume, make the space form a movement and circulate the airflow field, and effectively control the air circulation in the industrial workshop.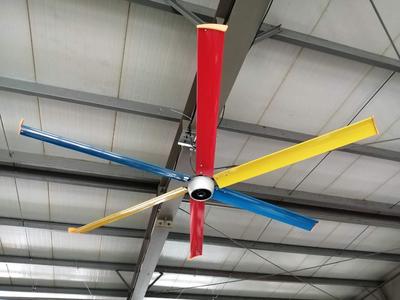 There is a direct relationship between the area of the industrial fan and the diameter of the fan. The large industrial fan has large coverage area, easy cleaning, and solves the problem of loud noise and high energy consumption.
1, adopt the latest propeller streamlined blade, the perfect streamline allows users to enjoy the 1-3m/s three-dimensional air supply, forming the same natural breeze system.
2, the use of convenient, using the latest variable frequency speed control system, convenient to use at the same time, the humanized interface allows you to enjoy the beauty of technology and life.
3, beautiful and durable products can be cleaned without any cleaning after complex surface treatment. At the same time, the quality of the products is severe, and each product is strictly tested before the factory is released, and its life expectancy can last up to 10 years.
4, the streamlined design with perfect energy saving and low consumption can be effectively covered by more than one thousand and five hundred square meters by strict type selection test. The maximum power consumption is only 1.5KW, which is a good product for energy saving.