Because of the needs of production, automobile manufactory is equipped with stamping, welding, painting, injection molding, assembly, vehicle testing and other workshops. The machine tool equipment is huge, covers a large area, hot and hot, if the air conditioning to cool down the cost is too high, but also to seal up the space, is not conducive to air circulation.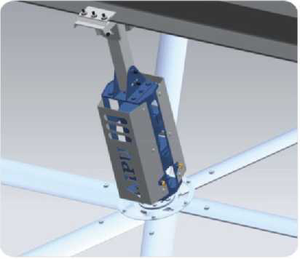 How can we not increase the overall operating cost of the enterprise, but also reduce the temperature, ensure the overall good indoor air volume inside and outside the workshop, create a comfortable working environment, and ensure the occupational health of employees? For this reason, Changsha Weichang temperature control equipment puts forward the overall energy saving and cooling scheme according to the characteristics of the automobile manufacturing factory itself.
The industrial large fan is a huge fan with a diameter of 7.3 meters. With the opening system of aerodynamics principle and advanced technology, the Hunan industrial giant fan can only drive 13050 cubic meters of air with the power of 1.5KW, and generate a large area of natural airflow. It can realize the omnibearing air flow and play dual functions of environmental ventilation and personnel cooling.
Has the final say that the industrial fan with a 7.3 meter height can cover 1500 13050m3 of the largest area, and only consume 0.8 degrees per hour. It saves electricity. Has the final say? The enormous volume of air generated by the minute per minute can drive the air flow in all directions, resulting in continuous, three-dimensional circulation. The effect is not good, or do you have the final say?